Top Stories
Medical Legal Alert
Indiana tort – Medical Necessity not admissible
Judicial efficiency and fairness of verdicts in personal injury cases have suffered a substantial setback in Indiana as the flood gates of medical provider over-utilization have been thrown open.
On March 4th 2010 the Indiana Supreme Court dealt a death blow to personal injury defense. In the most worrisome aspect of the decision, the justices ruled that the defendant may not introduce expert testimony evidence as to the medical necessity of the treatment and diagnostic testing provided to the plaintiff for the purposes of determining damages. Traditionally the plaintiff had to prove that medical expenses were "reasonable and necessary." The court redefined the term "necessary" by stating "that the nature and extent of the treatment claimed must be necessary in the sense that it proximately resulted from the wrongful conduct of another". This definition removes the classic meaning of "medical necessity" and replaces it with the definition of "causally related" or "proximate cause". Now the defendants may not dispute the judgment of the medical provider.
Supreme Court Opinion Sibbing March 4th 2010
LOCAL CHIROPRACTOR SENTENCED TO 5 YEARS IN FEDERAL PRISON FOR HEALTH CARE FRAUD
Atlanta, GA—DR. WILLIAM STEARNS, DC, 47, of Marietta, Georgia, was sentenced 3/12/2009 to serve five years in prison by Senior United States District Court Judge Clarence Cooper, for participating in a $2 million health care fraud scam at the network of back pain clinics that he operated with two co-conspirators. STEARNS was convicted after a two-week jury trial in October 2008 http://atlanta.fbi.gov/dojpressrel/pressrel09/at031309a.htm
On-Line Web based Training
IHC Academy is currently developing on-line versions of the popular training programs. These should be available by Spring 2010.
Orthopedic Surgeon Pleads Guilty
http://atlanta.fbi.gov/dojpressrel/pressrel07/insurancefraud032107.htm
Federal Jury Finds Two Chiropractors Guilty of Fraud
Atlanta, GA - A jury in federal district court has returned a guilty verdict against ARTHUR HARGRAVES, 67, of Douglasville, Georgia, and DANIEL PUFFENBERGER, 52, of Kissimmee, Florida, on charges of health care fraud, relating to fraudulent billings for a controversial back pain treatment known as Vertebral Axial Decompression or "VAX-D."
http://www.romenewsbywatson.com/?p=1550
Chiropractors Plead Guilty
Two chiropractors — Eric and Christopher Topel of Atlanta, Georgia - have been sentenced in United States District Court on charges of health care fraud.
The two brothers pled guilty in February, 2006 and both were sentenced on June 2nd, 2006 to 2 years, 10 months in prison followed by three years of supervised release, during which they each will be required to perform 350 hours of community service.
According to a press release issued by the Federal Bureau of Investigation: From approximately late 2003 into 2005, the two chiropractors engaged in insurance fraud scams that together attempted to bilk Blue Cross and Blue Shield of Georgia out of almost $2 Million.
The scheme involved false billing for a non-surgical back pain procedure known as Veterbral Axial Decompression or "VAX-D."
Dr. Wakefield Presents

ERT
Dr. Wakefield presented ERT at NJSIA. ERT "
Environment of Relevance Training
" is a new name applied to an old concept.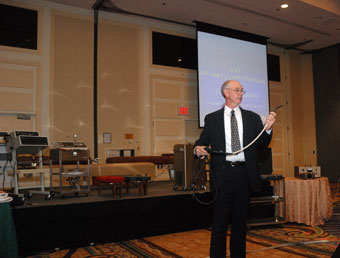 Dr. Rick Wakefield presented ERT at the New Jersey Special Investigators Association annual convention in October in Atlantic City. Dr. Wakefield explained that "hands-on" training as a teaching method has been around for a long time, but until now no one has made an attempt to create a Mock-up clinical environment specifically for the training of Healthcare Fraud Investigators. This new concept he coined "ERT" to describe an adventure in learning where the retention rate of the student is exponentially increased because the student is immersed in the clinical environment like an intern who is thrust into a hospital environment. At the convention, Dr. Wakefield demonstrated the use of over a ton of equipment transported from his 'mock clinic' classroom in Marietta Georgia. The 450 attendees were thrilled to see and handle the actual equipment that they have been paying CPT codes for over the many years that they have been investigating claims. "Attorneys, law enforcement and insurance investigators are all faced with the same dilemma, in that their lack of familiarity with the clinical equipment makes them more easily deceived by the fraudulent provider" Dr. Wakefield indicated.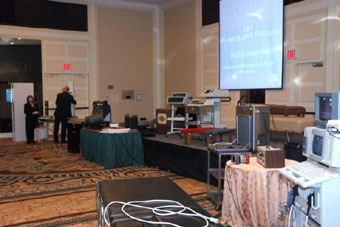 This new concept in training Healthcare Fraud investigators will give students experience in a controlled environment that they can't get on the job.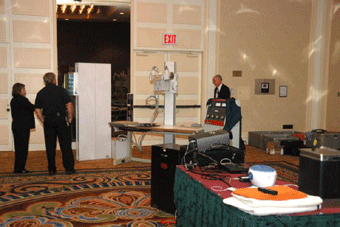 ERT
is an absolute necessity for investigators who conduct clinic inspections!
Dr. Rick Wakefield JD, DC, PA